Sprott Headstone
Dromara, County Down, Northern Ireland
This head stone marks the area of our Sprott family ancestors
both Irish, New Zealand and American families.
In
Loving Remembrance
of
The SPROTT FAMILY
of Aughnaskeach and Enoch

"Yet a little while"

Erected by
Joseph and Henry Sprott
Chertsey Canterbury
New Zealand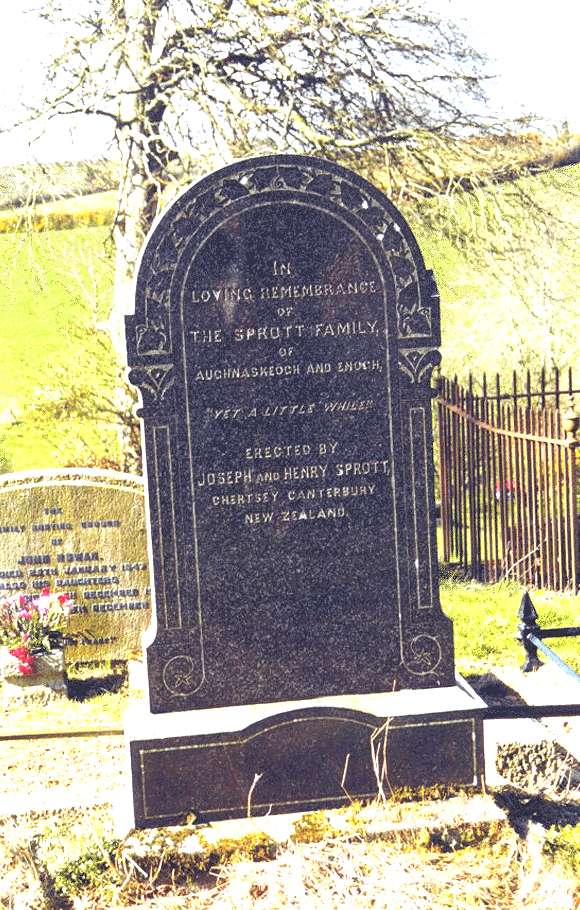 The photo is of the Sprott headstone in the GARVAGHY Church graveyard. It is at the Garvaghy Church of Ireland and is situated near to the town DROMARA, County Down, Northern Ireland. The grave yard is the last resting place of our Sprott family in Ireland up until around 1900. There was no headstone, so around 1910 Joseph and Henry Sprott had this stone erected. Aughnaskeach was the area of the Sprott farms until Robert,s brother Henry moved to farm at Enoch from where the four brother immigrated from to New Zealand.
Thanks to Forbes Taylor of New Zealand for the photo and information.
Return to Spott page
Return to "Our Family Web Page"