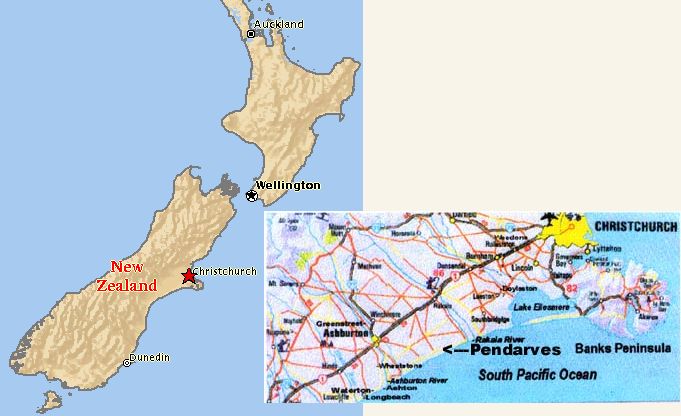 Pendarves is where the Sprott farm named "Woodvale" and settled by Henry Sprott is. It is still farmed by his great grandson Alister Sprott. Pendarves in situated in the Ashburton County, Canterbury Province, and is south of Christchurch a city of about 310,000 people (see map).

The photo was taken in 1909 when John came out to visit his brothers. It was just as well he did because not long after the photo was taken Samuel died on the 30 Dec 1909, aged 81, and then James died on the 16 April 1910, aged 75. John sailed for home on the 17 May 1910 with his brother Henry and wife Jane who had a holiday in Ireland.

SAMUEL SPROTT:- Born 9 Jun 1828, Dromara, County Down, Ireland. Immigrated to New Zealand in 1865 and farmed at Asley where his brothers Henry and Joseph joined him in 1865.They sold this farm and moved to the Pendarves district where he owned 271 acres. He married Annie Mackenzie in 1884, no children. Died 30/12/1909 - All family buried Ashburton Cemetery.

JAMES SPROTT:- Born 16 July 1834, Dromara, County Down. Immigrated to New Zealand in 1880. Worked for his brothers. Died 16/04/1910.

JOSEPH SPROTT:- Born Dec 1838, Dromara, Immigrated to New Zealand in 1865 with his brother Henry on the sailing ship "Glenmark". After farming with Samuel at Ashley he bought a farm at Pendarves which he named "Woodlands". Married Katherine MacKenzie a sister of Annie in 1891. No children. He died 16/08/1922, aged 84.

HENRY SPROTT:- Born 10 Jan 1842, Dromara. Immigrated to NZ with his brother Joseph as above. 1873 bought his farm at Pendarves which he named "Woodvale". In 1880 this farm was 850 acres and he had a further 301 acres in partnership with Joseph. Married 1888 to Jane McMillan -
Children:
Henry Angus 1889-1976
John Samuel 1893-1958 - Father of my wife Colleen
Mary Jane 1892-1965
Henry farmed until 1927! when he retired to Ashburton, died 13 May 1934, aged 93.

JOHN SPROTT:- Teacher, stayed in Ireland.