"On 300 lush wooded acres in the foothills of the Cascade Mountains, in a compound dotted with Craftsman-style homes and organic garden plots, Love coexists with Honesty, Beauty, Serious and about 35 other like-minded individuals with similarly virtuous first names.
Though most are unrelated, they share the last name Israel. Beauty is an office assistant. ('Hi, this is Beauty Israel,' she says on the phone.) Their spokesman is Serious.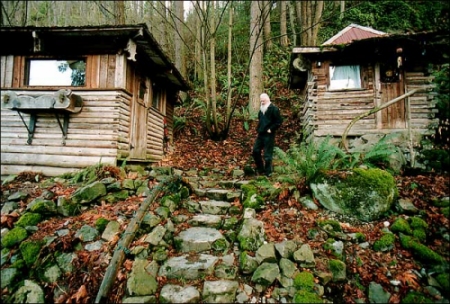 The Love Israel commune has sold its 300-acre headquarters near Seattle. The group's spokesman, Serious Israel, took a walk on the grounds. Photo: Anna Mia Davidson for The New York Times
The community, called Love Israel, after its leader and founder, is an enduring relic of the hippie commune explosion of the 1960's, one of the last true communes left in this country. Mr. Israel, a former salesman from Haight-Ashbury, organized the group in Seattle in 1968, basing it on principles of Christian love and a philosophy he described as 'We are all one, love's the answer, and now's the time.'
But it looks as if Love Israel's time here is up.
After surviving decades of internal turmoil and years of battling with the county government here over plans to create a self-sustaining village near this town 60 miles north of Seattle, the Love Israel family has run out of money and is closing down. The looming demise of the group, which once had more than 300 members, marks the end of an era in the Puget Sound region. The area has a long tradition of communal living, beginning with the large socialist utopias of the late 19th century and peaking again in the wild, heady days of the late 1960's and early 1970's. One by one, they have disappeared.
'I think we're the only ones left that I know of,' said Mr. Israel, who changed his name from Paul Erdman after moving to Seattle from San Francisco and then had 12 children, 11 of them with two members of the group.
'And if it was just me that had the vision,' he said, strolling the grounds where his followers built their own houses and a sanctuary for spiritual meetings and worship, 'we'd be done, too. But it wasn't just me. Everybody had the vision just as me.'
Love Israel's failure was not for lack of trying. The group has many skilled craftsmen, and it kept borrowing against its property to start businesses in and around Arlington — a restaurant, a wood mill, artist studios and other shops and cottage businesses. Love Israel's annual Garlic and Music Festival, which draws thousands of people every year, earned enough money to meet some mortgage payments. But it was not enough. When the last of its business ventures failed, the group filed for bankruptcy last February.
Mr. Israel, in a long interview, referred frequently to the 'thousands of rumors' about him — involving womanizing, taking members' money and improperly raising the group's children. The stories are all falsehoods, he said, that prejudiced the county government.
Asked why he thought there were so many negative stories about him and the family, Mr. Israel said: 'We're hippies, what do you want? Blame the head hippie for everything.'
Sociologists and historians who have studied the various incarnations of what is known as the 'intentional communities' movement say that several communes begun in the 1960's and early 1970's still exist, although very few pure income-sharing communes formed around spiritual leaders, like Love Israel, remain.
What came after the communes were cooperative housing developments, known as co-housing, in which people buy homes in a community that they plan and run together — a growing niche that purist communitarians jokingly refer to as the 'Republican' branch of the movement. And more recently, ecovillages, communities dedicated to environmental conservation, have been cropping up in Europe and are starting to take hold in this country, experts say.
One of the largest and best known is the Farm, a commune founded in 1971, in south-central Tennessee, which in the early 1980's moved away from the income-sharing commune mode and is now the headquarters for the Western Hemisphere of the ecovillage movement.
'Counterculture is a permanent tradition,' said Bennett Berger, professor emeritus of sociology at the University of California at San Diego. 'There will be waxing and waning. It's been waning for 20 years, but that doesn't mean it's disappeared.'
The Love Israel members are considering going the ecovillage route when they leave here within six months. A bankruptcy judge approved the sale of the grounds this month, for $3.2 million, to a group that plans to turn it into a summer camp.
The Love Israel clan, which established itself in the Queen Anne Hill neighborhood of Seattle, moved to the compound here in 1984, after accusations of financial and sexual opportunism against the leader almost dissolved the commune.
In the conflict, several members accused Mr. Israel of taking their money, with one filing a lawsuit, and of having sex with several of the women in the family, according to Charles P. LeWarne, a historian of Puget Sound utopias who is writing a history of the Love Israel group. Mr. LeWarne said that some parents in the commune raised concerns about how the children were being raised.
Mr. Israel left Seattle in 1983 for California, where he worked as a banker. A core group of about 40 people stuck with him — he said their loyalty was not to him but to their shared philosophy — and he sent many of them to live at the Arlington compound. Even before the division, the group had been using the property as a camp, but after Mr. Israel returned from California it became the new headquarters.
They initially lived there in tents and then built houses, prompting Snohomish County officials to take them to court, saying they were violating zoning regulations by building houses too close together. The group lost and faced steep fines. The county also refused to approve their plan to create a 'mixed use' development, with housing and commercial businesses on the same property.
County officials said the group was never able to answer all of the questions that needed answering about its development plans.
With no future in Arlington, Mr. Israel, 63, said he planned to start a new commune, possibly in a county in eastern Washington with less stringent zoning regulations. The 40 people living with him now will stay together, he said.
'Everything that is here we did,' he said. 'So wherever we go we can do the same thing. We have this very good feeling right here, and we'll just take that right with us.'" (Sarah Kershaw, New York Times, December 25, 2003)